Speel nu een escape room gewoon in je eigen huis! In de speciale 'at home'-versies van onze escape rooms spelen jullie unieke gethematiseerde spellen die gemiddeld ruim 2 uur speelplezier bieden. Leuk voor jong en oud, daarom geschikt voor alle gezelschappen.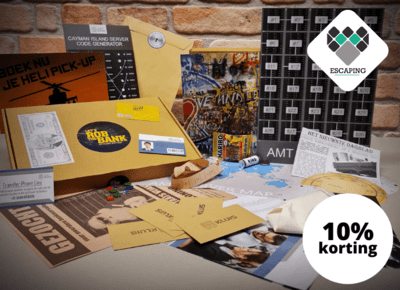 Naast onze escape rooms in Utrecht, Breda & Antwerpen biedt Escaping nu ook speciale 'at home'-edities aan. Of je nou wel of geen ervaring hebt met onze escape rooms, deze spellen zijn leuk voor iedereen! De spellen bieden ruim twee uur speelplezier en zijn geschikt voor jong en oud. Daarnaast kun je bij ons het thuisspel "Let's Rob the Bank" gratis items aanpassen met je eigen foto's, daarmee wordt de ervaring nog unieker!
Exclusief voor PV-leden
Normale prijs €49,50. Je ontvangt nu 10% korting op al onze thuisspellen en betaalt slechts €44,55!
voor deze aanbieding.