Simon & Garfunkel Acoustic
Do 20 dec – Schouwburg Amstelveen
Jop Wijlacker en Dennis Kolen halen hun jeugdherinneringen op met de mooiste Simon & Garfunkel songs; van het ingetogen Sound of Silence, Scarborough Fair en Homeward Bound tot het gezellig meezingen met Mrs Robinson, The Boxer en Cecilia. De liedjes worden ondersteund met sfeervolle beelden en afgewisseld met spraakmakende anekdotes en persoonlijke herinneringen. Momenten van bezinning maar ook vrolijk meezingen! Jop en Dennis brengen ons dichter bij Simon & Garfunkel dan we ooit durfden dromen!.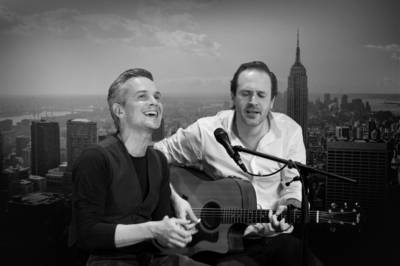 Waar en wanneer
Schouwburg Amstelveen
Donderdag 20 december 2018
Aanvang 20.30 uur

Kaarten
Normaal: 1e rang: €20,50 nu met 25% korting voor PV-leden: €15,00 (incl. € 1 transactiekosten per ticket). Maximaal: 50 kaarten beschikbaar.
voor deze aanbieding.